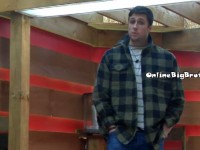 Sabrina says she was really back and forth with keeping Arlie because she thought it would have been a really cool game move.
Jon keeps saying that Arlie wants to work with him if he stays. Neda agrees to all Jon's points.
They agree Arlie's timing was off if he had waited a day before he started his campaigning he would have probably stayed. Sabrina says she doesn't want them to screw her over that is the one thing she's worried about. Sabrina mentions that Big Brother might save Arlie and he knows it that is why he's acting the way he is.