-Post has been updated-
9:30am Big Brother wakes up the house guests. Bobby, Bruno, Zach, and Pili are in the kitchen. Sarah says sure we keep Bobby now and maybe he helps us get people out but then he kills us in competitions. I didn't come here to play for third or second place. Sarah asks you can only win 1 week at a time. Not to mention what have you done for me lately bro!? Godfrey says he got Sindy out, he throws competitions, he lied about the secret veto. Sarah says I trust you more than him. Sarah says we don't have to put all our eggs in the Bobby basket. Sarah says when they get really intense is at the end when we would be f**ked at the end against him, not them. Bobby might get us one more week.
-Post has been updated-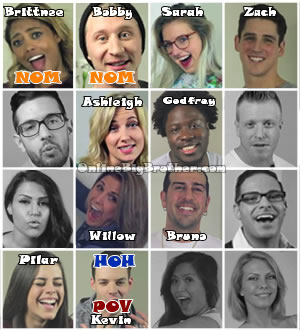 Big Brother Links
Bitchy Big Brother Blog
Big Brother attwx
Hamster Watch
Quirkydudes Archives
Big Brother Archive
Big Brother Gossip
OnlineBigBrother Forum
I Love Reality TV
Big Brother Junkies
The Reality Junkies
Big Brother Fans Blog
IHateBigBrother!
Big Brother 2009
Big Brother Network
Big Brother Insider
The Big Brother Forum
Because You're Addicted
yakkityyaks